Order and request management
Automated, efficient, fast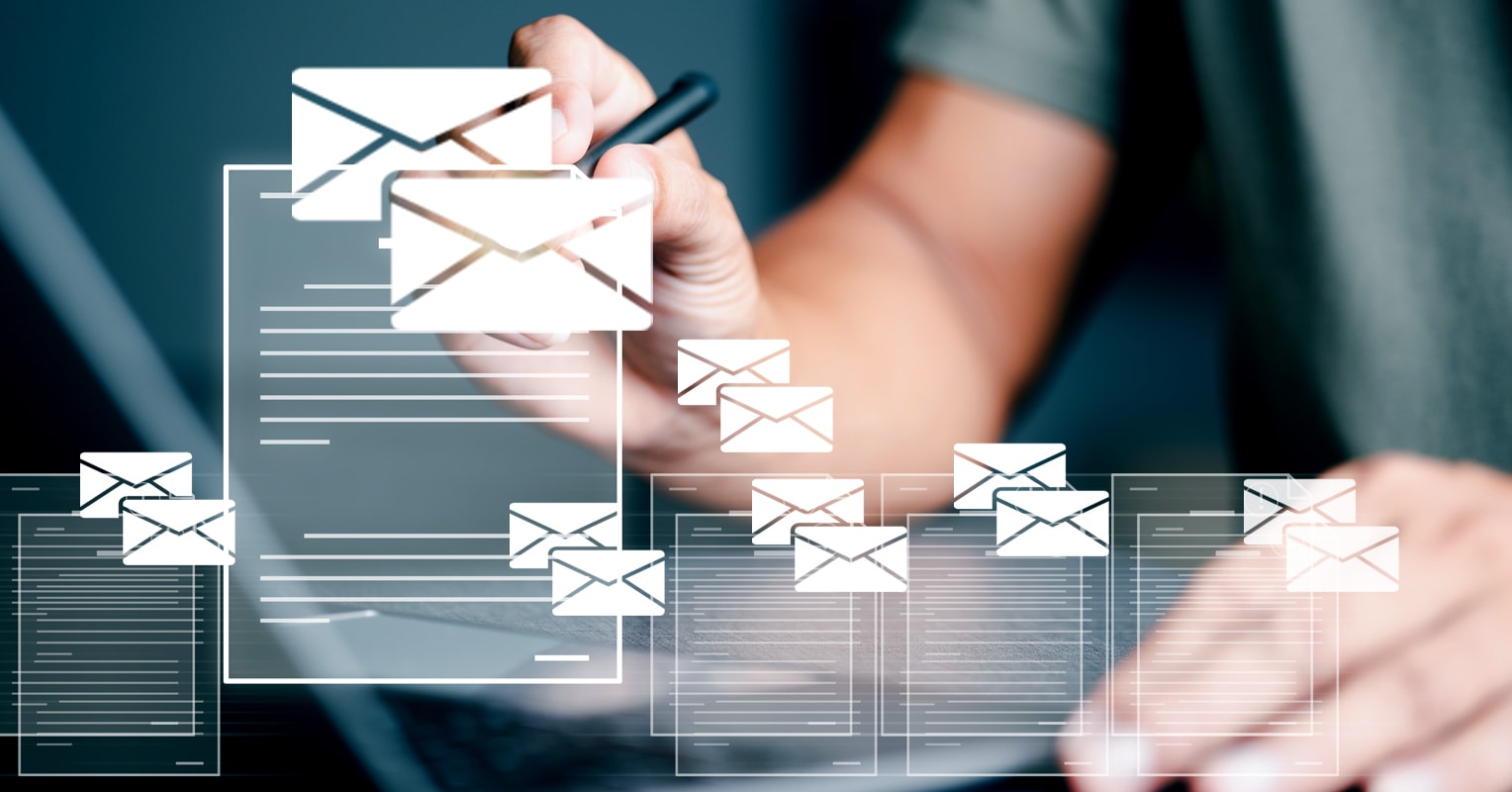 Process orders and inquiries automatically
The sales booster based on artificial intelligence
State-of-the-art AI software reads emails incl. attachments, such as order documents, quickly and correctly - on a human level. Recognition rates of up to 99%, even for multiple items and unstructured documents, make it possible to automate work that was previously only possible manually.
Up to 80% less effort in the sales department
The AI system
Order and request management using Natural Language Processing
Overview of incoming requests and orders
Convenient in the browser
Channel-independent, automated processing.
Whether email attachments, mail or scan
Full text search and numerous filter functions
Possibility to assign documents to a processor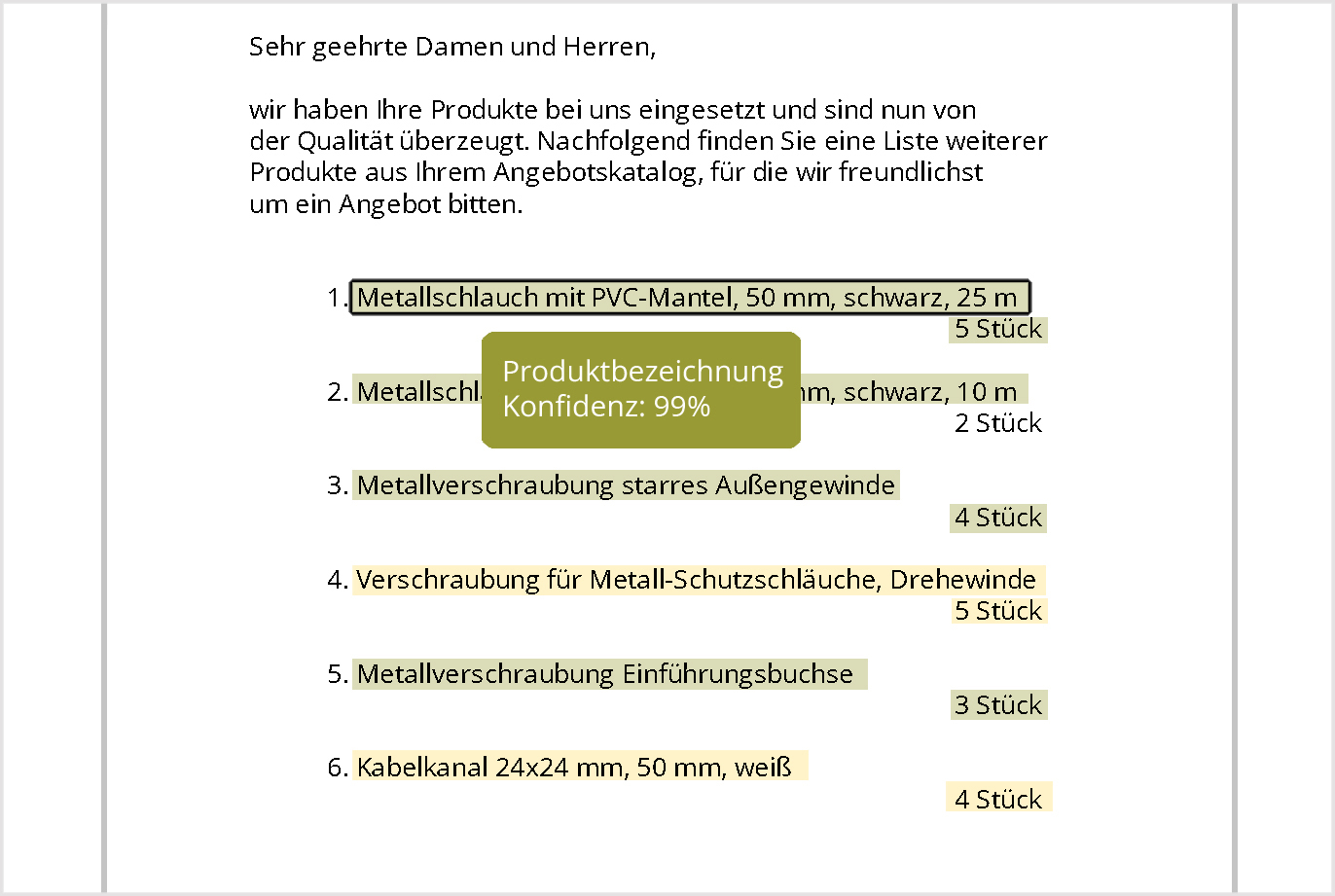 Fully automatic, precise analysis of documents
Data extraction with high-tech
Reliable recognition of relevant information
Recognition rates up to 99%.
Correct reading of even several positions.
Automatic recognition of new formats
indication of confidence
Color labeling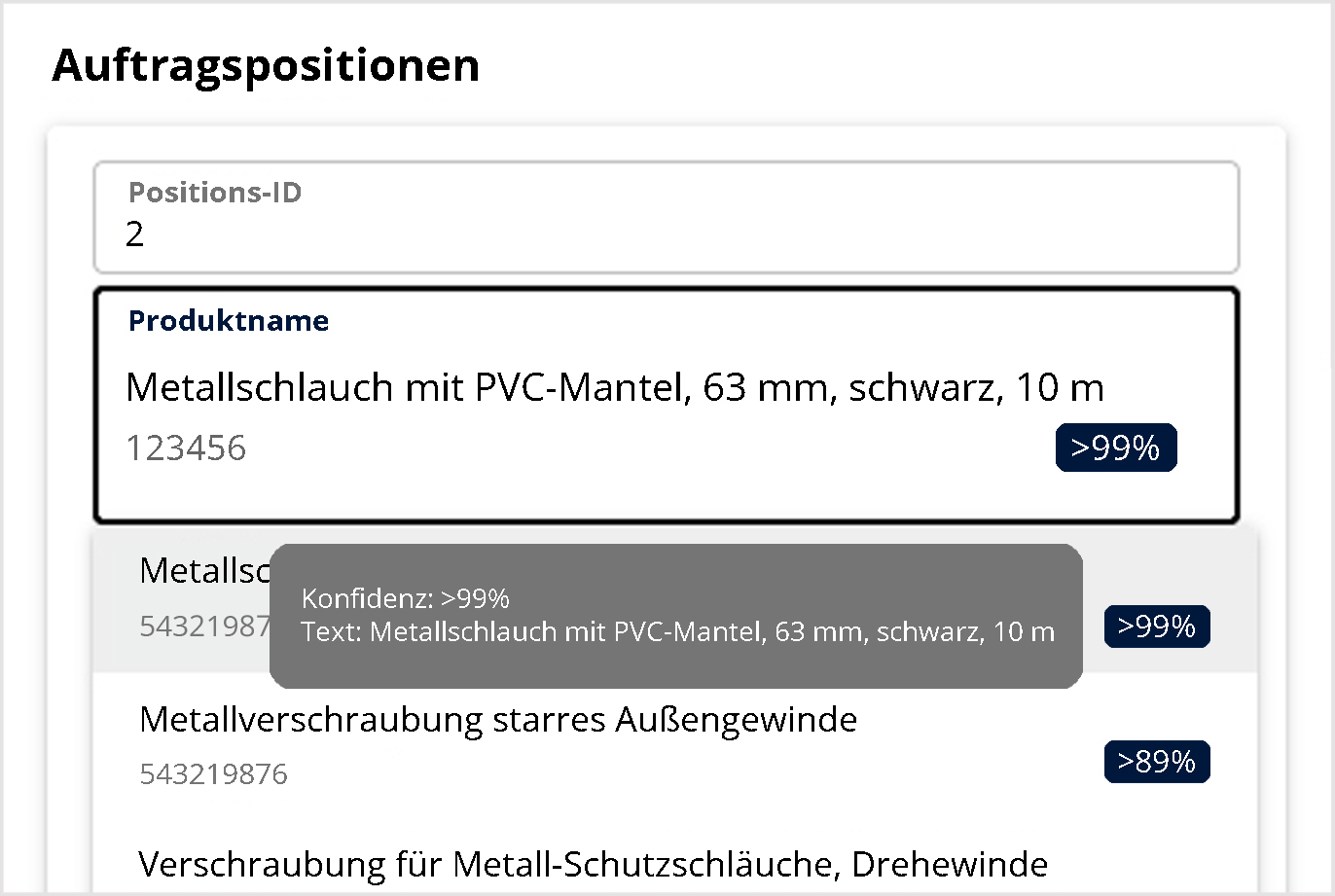 Comparison with product and customer data
Consistent data across systems
Direct connection to leading systems
Automated matching with product data, service specifications and customer data
Even with different spellings and typing errors
Via drop-down direct adjustment
No system change necessary
Data that kinisto can recognize and match in query management: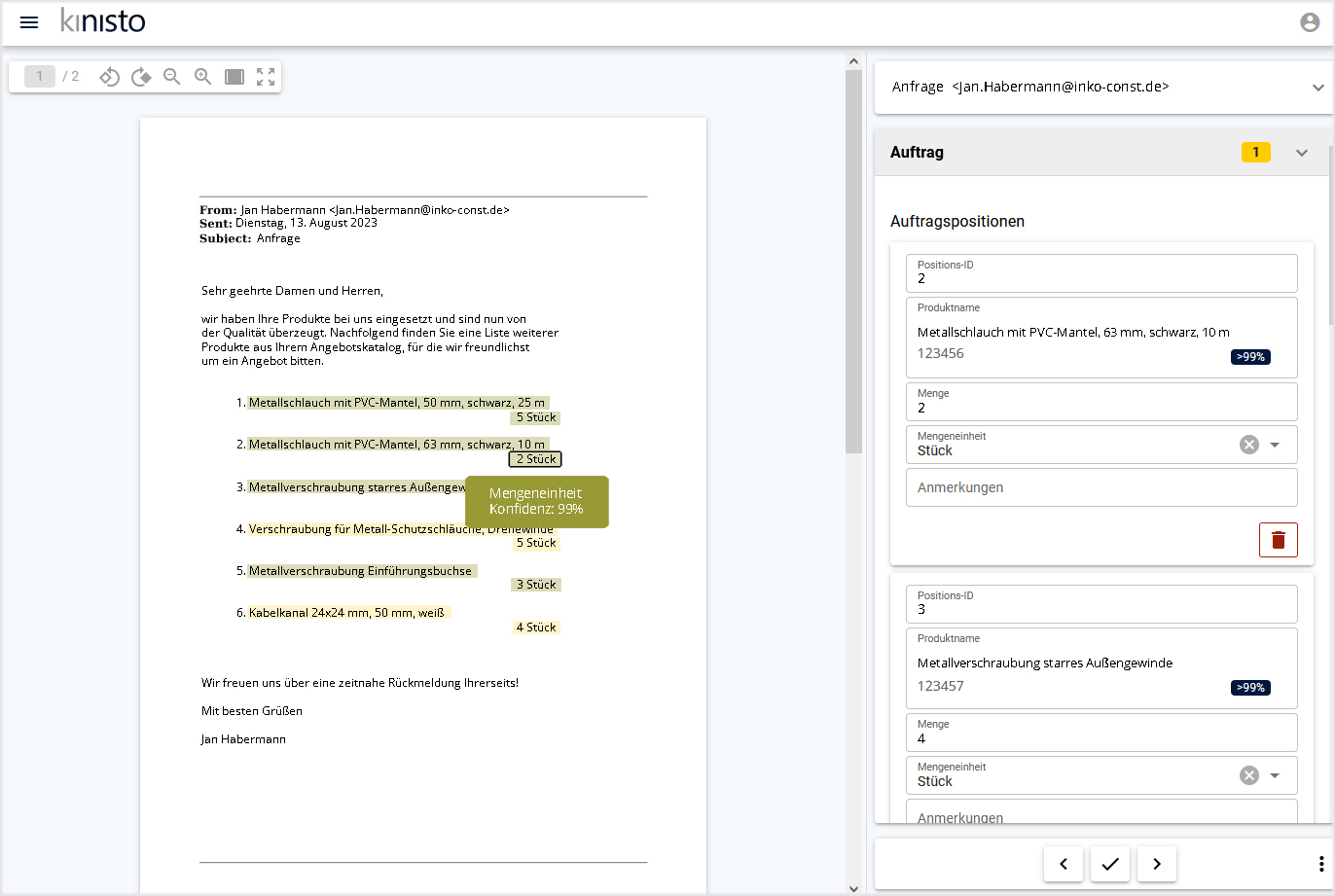 Optimized review interface
Fast checking of results
Human-in-the-loop interface
Fast testing by humans
Direct adaptation possible
Modern design and intuitive usability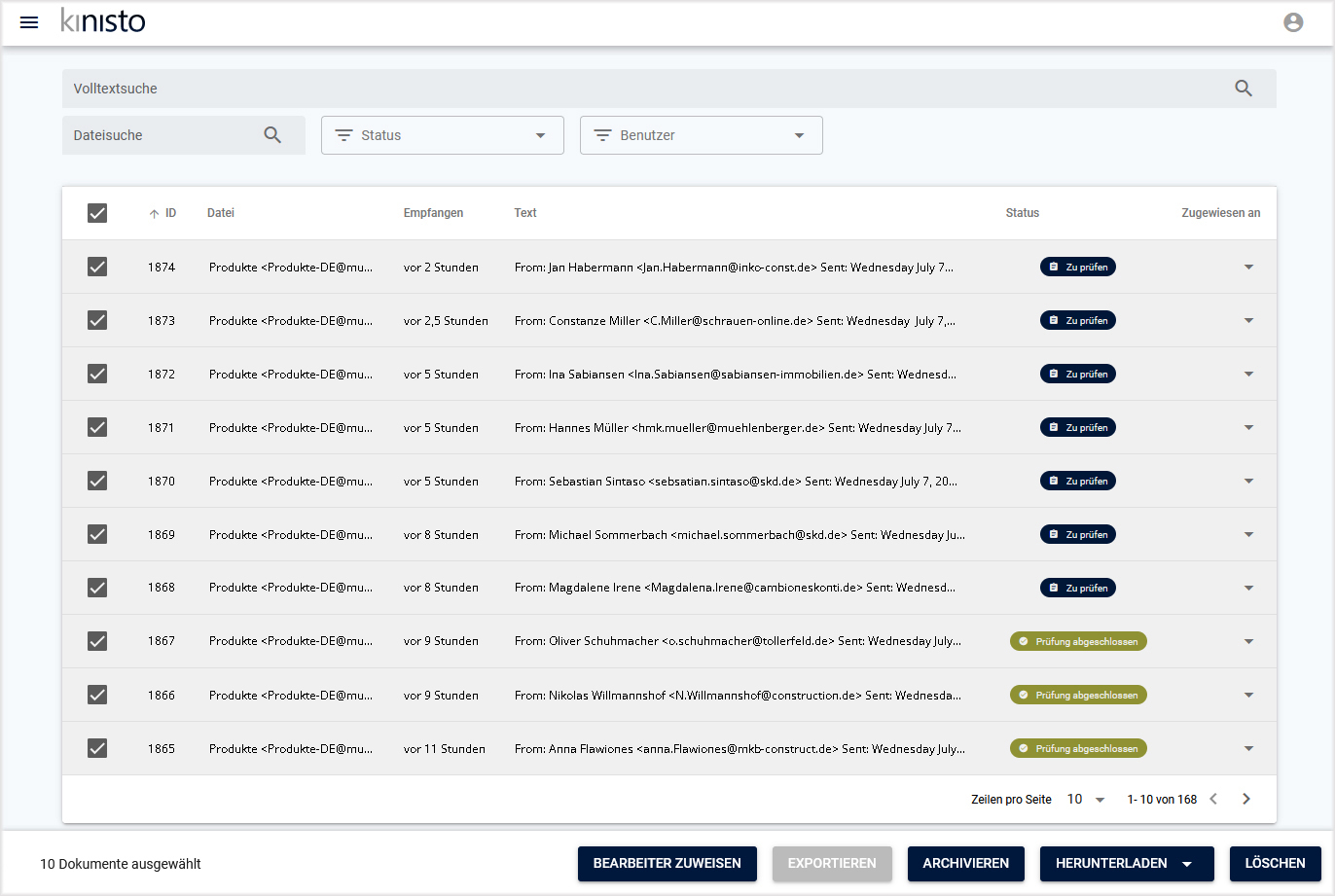 Seamless connection
Direct transfer of the data
Completely integrated into the company processes.
Order created automatically in ERP (e.g. SAP).
Per document or collected
Efficient request management in just a few weeks
Perfectly tailored to your company and your processes
More efficient and better performing: automate your inquiry management now with innovative technology. kinisto is ready for use in no time and can be seamlessly connected to existing systems.
As a specialist in process optimization, we would be happy to advise you on the use of the latest AI technology in inquiry management.
In practice
High-tech assistant for sales and customer service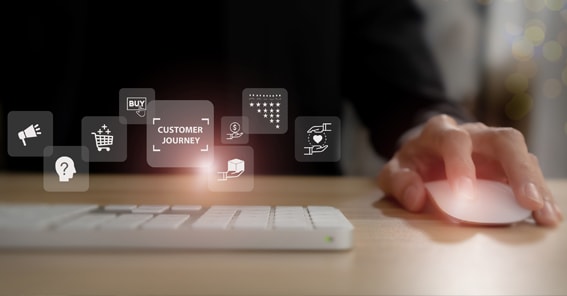 Inside sales
Trigger quotes and order in no time
The AI systematically reads e-mails (including attachments) and other documents on a human level and can directly match customer requests with the product or service catalog. In the process, the product designation used by the customer in his inquiry does not have to match internal designations 100%. This significantly increases the efficiency of the sales team: quotations and orders can be created without delay.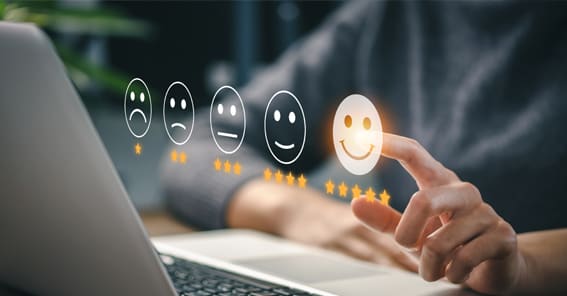 Customer service
Fast response times and automated processing
The use of AI technology in customer service revolutionizes inquiry management and significantly increases customer satisfaction. The automated categorization and assignment of incoming inquiries enables structured processes and reduces the duplication rate. Even complete automation of routine processes is possible. For example, the dark processing of change requests to data such as IBAN or address.

In detail: This is what the AI system can do
Text-Processing-(R)Evolution
AI makes the difference
Automatically capture, match and process data
Digital processing of incoming orders means process acceleration. From the type of goods to the quantity of goods to the customer's data - kinisto not only recognizes information based on text and position recognition, but also reads the document like a human being. kinisto works contextually. This means that the text modules are recognized and then placed in relation to all other contents of a document. In this way, the actual content can be recognized, "understood" by the machine and output as data. The structured information can be processed directly without delay.
Orders and requests will be data
Competitive advantage through AI-based order and request management
kinisto goes a big step further than conventional classification and data extraction systems. Based on Natural Language Processing (NLP) with Deep Learning methods, kinisto recognizes information in context and makes it usable.
Classification & Data Extraction
Whether in e-mails, attachments or scans, kinisto recognizes text modules, puts them in context with each other and extracts the relevant information in a structured manner - regardless of the wording or form of the query. All relevant data is thus available quickly and in a usable form.
Process optimization
Thanks to the rapid availability of information, orders and inquiries can be processed much faster. The structured data can be matched directly (with product or service catalogs) or even processed fully automatically (e.g. for a "simple" bank data change).