Intelligent Document Processing (IDP)
11/03/2022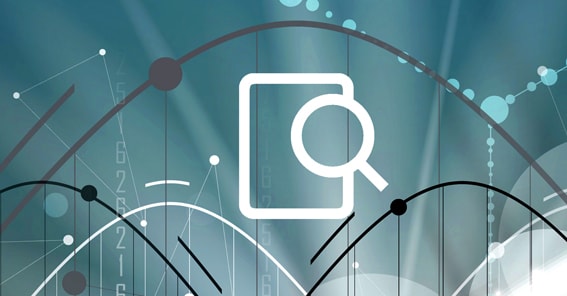 AI technology can be used to extract structured information from documents of any complexity in a fully automated manner. Intelligent Document Processing is the practical use of Natural Language Processing (NLP) based on Deep Learning methods in a business context for process automation. The goal is to process information with maximum efficiency.
Digital Transformation and Intelligent Document Processing
Documents are the knowledge base and the "interaction monitor" of companies. Every day, people pick up billions of documents (digitally): they document, inform, communicate, research and interact – via e-mail, PDF or text document – and carry out more or less complex work steps. Intelligent Document Processing (IDP) solutions take over tasks on the document completely (full automation) or partially, supporting humans in executing certain steps of the process.
For companies, Intelligent Document Processing is an essential component of sustainable and future-oriented digital transformation.
Objectives for the use of Intelligent Document Processing
The goal of using an IDP solution can be both the optimization and automation of constantly running processes, as well as the use of existing information that could not previously be read out in a structured manner. This is because Intelligent Document Processing can be used to process incoming documents (from all common channels) as well as documents that are already available in the company.
When Intelligent Document Processing is used, one step often follows the other: First, the inventory of documents is analyzed by the AI and subsequently also used when new documents are received. For example, in the extraction of certain contract clauses. Initially, the entire contract inventory is checked, which provides a detailed picture and rapid availability of information, and subsequently each new contract that is added is also analyzed – which makes the daily work much easier.
In many cases, it is not a matter of complete automation: Intelligent Document Processing can "take over" time-consuming partial work steps, relieve employees of manual tasks and thus make a valuable contribution to process acceleration.
In principle, the use of Intelligent Document Processing always aims at process optimization and process automation. Specifically by:
Automatic processing of documents
Partial automation of work steps on the document
Making information available in the document inventory
Advantages of using Intelligent Document Processing
More business efficiency
Eliminate the cost of manually capturing information, make processes run more efficiently, faster, and most importantly, more cost-effectively.
Better scaling
With Intelligent Document Processing, information can be extracted in seconds – whether 10 or 1000 documents are received per hour. That means less volatility and more scalability.
Happier customers and business partners
No one likes to wait for a response – whether for a signature on a contract, an order placement, an answer to a service request, or the payment of an invoice. Often, partial automation using Intelligent Document Processing is the first step in enabling a fully automated process and thus processing requests within minutes instead of days or weeks.
Satisfied employees
Data entry is one of the most undesirable tasks for knowledge workers. Intelligent Document Processing allows employees to focus on more demanding and meaningful tasks – especially in times of skills shortage.
Consistent quality
Once learned, a document AI always captures a fact in the same (good) way. Inconsistent capturing, e.g. during an employee transition, is a thing of the past.
Application areas of Intelligent Document Processing
Possible applications of Intelligent Document Processing range from "classic" invoice processing to the reading of complex contract texts and the automated recognition of data in waybills. The potential for optimization and automation is industry-independent and can relieve various departments in companies.
Examples for the use of Intelligent Document Processing:
Invoice processing
Contract management
Email management (classification)
Order entry management
Readout of delivery notes
Bill of lading entry
Customer care
Claims management
Examination of credit applications
Examination of applications for private health insurance
Processing of purchase orders
Identification of risks in contracts
Applicant management / skill matching
Extraction of central points from complex offers
etc.
What happens during Intelligent Document Processing
Unlike the traditional rule-based approach to content recognition, artificial intelligence recognizes the relationship of text elements to each other. This enables information to be extracted regardless of the structure, wording or format of the text.
Intelligent Document Processing first detects the individual text elements of the natural language as well as their position in the document. The AI then puts this information in context with one another. This means that complex content relationships can be captured in a wide variety of layouts, formats and formulations and output as structured information.
Intelligent Document Processing can be started easily at a wide variety of input channels (e-mail, upload, API, scan, mail, etc.) and the AI automatically recognizes a wide variety of document types (PDF, Word file, image, etc.). From invoices to sales slips – almost any document that contains text can be processed automatically. Even handwritten information is recognized in similar quality to printed text – assuming the handwriting is reasonably legible.
Seamlessly integrated into a company's existing system landscape, an IDP solution is a high-performance process accelerator. As a rule, review options via an interface as well as workflows relating to the documents and the extracted data are part of a holistic solution for Intelligent Document Processing.
Common solution structure for Intelligent Document Processing:
Classification and basic analysis of the document
Targeted routing
Data extraction
Data matching
Data validation
Data export / downstream workflows
Intelligent Document Processing compared to the rule-based approach
Optical character recognition (OCR) has been used for document processing for some time now. This is a rule-based process that attempts to recognize the correct information on the basis of the page layout or individual keywords. For example, a five-digit number can be recognized as a postal code and the word after it as the associated city.
However, neither the accuracy nor the scalability of Intelligent Document Processing can be achieved with this "classical" method. This is because specific rules (so-called templates) must be created for each layout and each possible formulation. Layouts change over time, and new documents are added in previously unknown layouts. In addition, keyword-based text rules are rarely unique. For example, a five-digit number can also represent a monetary amount or, as in the Anglo-American world, the city can appear before the postal code instead of after it. Using Intelligent Document Processing, the information can be reliably recognized even in these cases.
Sequence of an Intelligent Document Processing project
In general, the implementation of an Intelligent Document Processing solution proceeds in four steps and takes only a few weeks. Of course, as with any IT project, the exact time needed depends on the complexity of the project.
Individual automation concept – approx. 3 days to 2 weeks
Training of AI models for classification and extraction – approx. 2 to 4 weeks
Integrated process solution – approx. 4 to 8 weeks
Operation and optimization – from approx. 4 to 8 weeks
---
The AI system for intelligent document processing
Completely integrated into your work process, the AI software kinisto can support employees - previously manual work steps on the document are automatically done by the AI. As a specialist for AI technology in practical use, kinisto will be happy to advise you on the topic and on your specific case!