Automated quotation preparation with AI for construction suppliers
11/15/2023
Processing inquiries for building material manufacturers and dealers is a notoriously time-consuming process - even medium-sized companies often spend more than 1000 man-days a year preparing quotations. AI technology makes it possible to automate the process to a large extent.
Lever for more sales and a competitive advantage
Automation of previously manual activities as an efficiency driver and sales booster
Reducing the manual, repetitive activities involved in preparing quotations and therefore speeding up the entire process can be a lever for sales success and therefore for more turnover. Sales teams can thus create more quotations in less time and therefore exploit the sales potential much better.
The kinisto software has human-level reading skills and can therefore read information even in documents that could not previously be read by machine. Even complex correlations are recognized - regardless of the structure of the document, the format and the exact wording in the text. This makes it possible to automate activities that could previously only be carried out manually.
kinisto analyses incoming service specifications and e-mail texts, recognizes relevant items and automatically suggests suitable products for the tender. The software processes both PDF and GAEB service specifications and recognizes suitable materials for product-specific, product-neutral and tender items formulated for third-party products.
In use in the field by building material manufacturers and dealers
Reliable extraction of relevant items in bills of quantities
No manual "typing" - all important data immediately at hand
kinisto extracts process-relevant data from service specifications (whether PDF or GAEB format) and e-mails. In addition to basic information such as customer data and construction projects, the software recognizes the relevant items for the company - regardless of whether it is a direct inquiry, a neutral tender or a tender with third-party products. Even misspellings and typing errors are no problem.
Automatically matching product suggestions for the offer
Don't waste time looking for a product
The software not only recognizes the relevant items in the inquiry regardless of whether the in-house product was mentioned or not - it also automatically suggests products from the portfolio that exactly match the requested specifications.
Thanks to intelligent matching, suitable products are suggested for the inquiry, the error rate is significantly reduced and there are fewer queries from customers as a result.
The most important reasons for automating quotation preparation
More offers = more sales
Scaling quotation creation creates the opportunity to answer more inquiries in a much shorter time and thus increase sales.
Faster response = beating the competition
Faster responses to inquiries ensure that no deadlines are missed. In the case of individual requests, the chance of being the first to submit a request also increases.
Precise product selection = fewer questions
kinisto automatically suggests products that match the query and, thanks to less manual "typing", the error rate is also reduced.
Fast and accurate = happy customers and partners
Customers and partners are pleased with fast, correct offers. This ensures good customer loyalty and an image as a reliable business partner.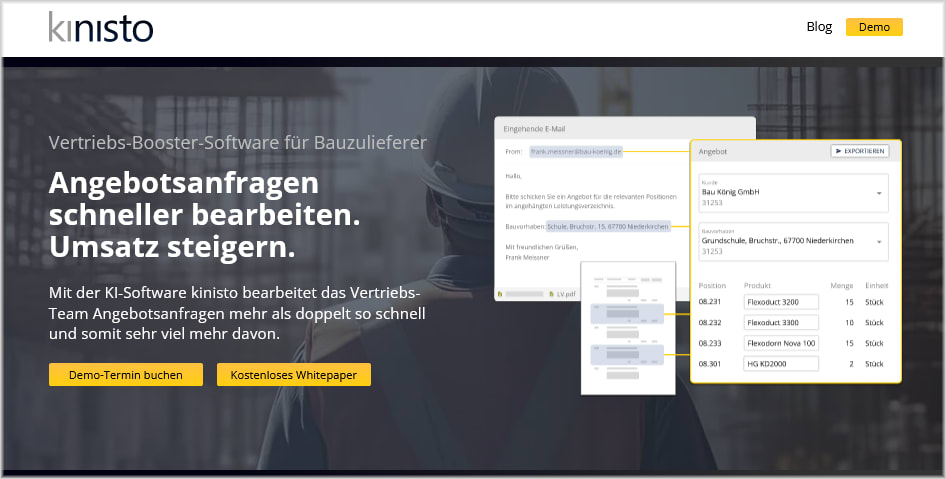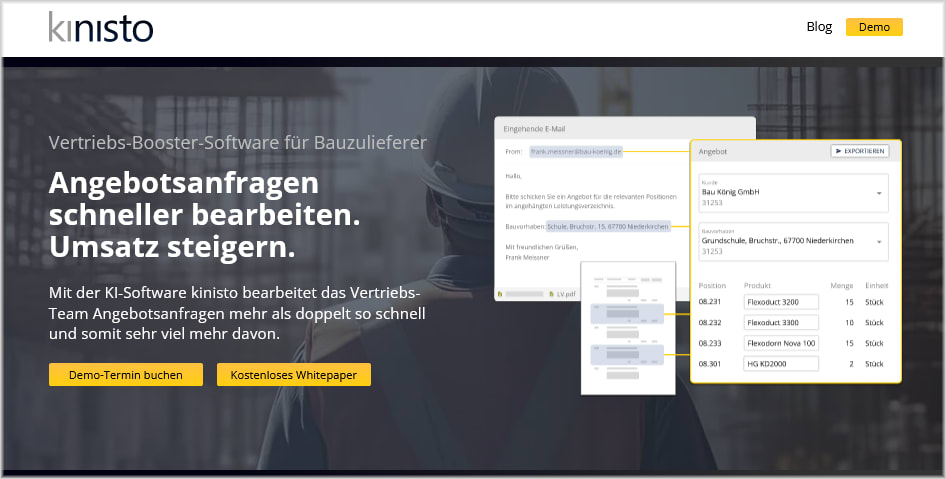 The industry solution
for efficient sales - construction suppliers
AI-based automation software enables the creation of more quotations in less time and increases efficiency. It is also scalable and cost-efficient, which also increases employee satisfaction as they have to perform fewer repetitive tasks.
Visit kinisto-construction.com to find out more about the solution for automating quotation preparation.